On 14, Sep 2015 | In News | By admin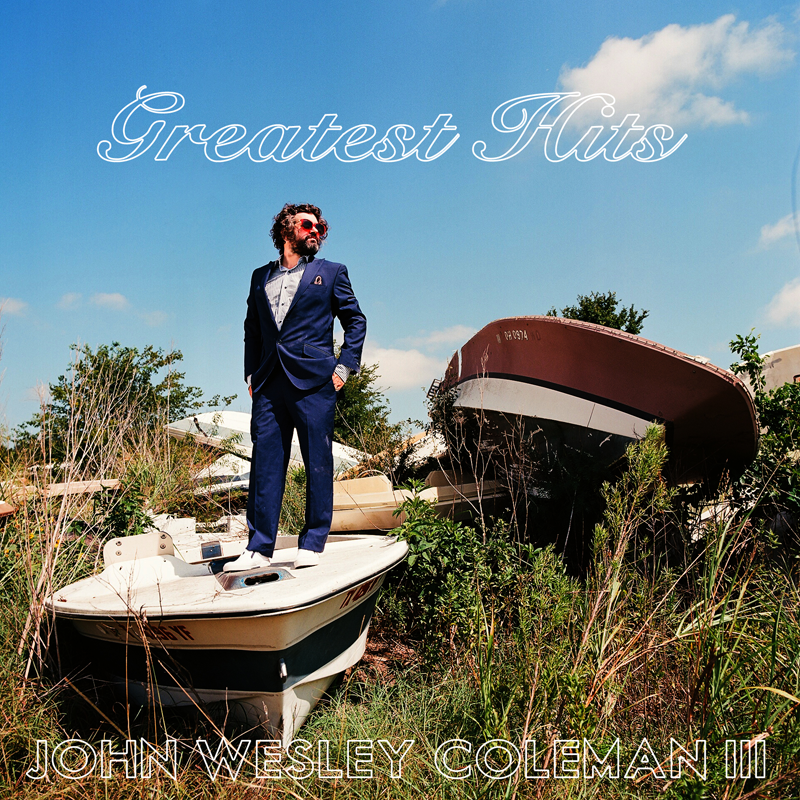 Out October 23rd on Super Secret Records
Austin's self-proclaimed "trash poet" John Wesley Coleman III incorporates his heady musings and witticisms with analog slacker rock. His new full length release, Greatest Hits, will be released on October 23rd by local imprint Super Secret Records. Following years of varied creative output at a breakneck pace, including performing with psychedelic five-piece Golden Boys and releasing a combination poetry book/CD titled American Trashcan, Coleman finds himself in new, unfamiliar creative turf – becoming a dad.
Greatest Hits chronicles Coleman's evolution as he subscribes to a new "hustle" – growing older and raising his daughter – and his struggle to bridge new and old ideas of being an artist. Coleman essentially sums this up as "shit being more real now." His specific and enigmatic songwriting has never been all about seriousness, however. Tracks like "Bong Song," Coleman's sweet ode to the stoner who longs for more love in the world after watching too much cable news, and "Lawnmower Man," an improved jam Coleman wrote and recorded in 15 minutes after a particularly grueling and smelly landscaping session – another one of his many side hustles – illustrate his ability to craft songs that are playful and cleverly subversive, while also expressing immutable sincerity. Sonically, he takes inspiration from the Southern swagger of Dwight Yoakam and George Jones, the classic rock of Rolling Stones' Exile on Main Street, the punk rock turbulence of Iggy and the Stooges and The Ramones.
Greatest Hits expands Coleman's repertoire of irreverent release titles (Urinal Cake 7″ was released in 2014) and features songs that "all sounds completely different, like they all came from different albums." The 10-track album was recorded at East Austin's Cat Eye Studios by Doug Walseth on analog 8 track to 1 inch tape, and some tracks were completely live. "Pick Up the Phone" delves into the friction between Coleman wanting to go out and be a part of the music scene and knowing that he is becoming more distanced from it as he gets older. He also notes that this can result in missing out on "partying under a bridge with Anthony Kiedis." Coleman apologizes in his best growl for his eccentric personality on the psychedelic "Sorry I Touched Your Mind," and "Fallin Out of Love", written by Austin songwriter Will Cope, finds Coleman channeling his country music heroes as he yearns to fall out of love so he can again experience falling back in it. "Television" was co-written with Austin based songwriter Nick Allison (Church Shoes), and Coleman's chorus acts as a kind of love song to his TV, which keeps him company when he sleeps on his couch after being booted out of bed by mom and baby. Two Press Junkie PR // 9901 Brodie Ln, Ste. 160 PMB 221, Austin, TX 78748 // ryan@pressjunkiepr.com // 512-382-7953 songs on Greatest Hits come from a very interesting business venture Coleman practiced: Fans paid him $10 online and gave him a tidbit about themselves, and he would whip up a song and record it for them. "Miranda" was commissioned by an eponymous fan in Austin and turned out to be one of Coleman's favorites. "Portlandia" was crafted for a couple in Oregon, and they told Wes they will play it at their upcoming wedding. "SleepyHead," a garage rock lullaby that muses on the recurring difficulty of putting his daughter to sleep, features a guitar solo from local punk luminary Dean Beadles, who also produced his Little Miss Keith Richards album.
Coleman grew up in Irving, Texas in a working class family, his dad owned his own picture framing business, and his mother was from an Irish Catholic military family from Boston. Coleman's father had a contract with Sony and Columbia to frame gold records and other merchandise with custom shadow boxes, and he recalls being wowed by Michael Jackson and The Rolling Stones gold records and guitars passing through his dad's shop. He thanks various neighbors for introducing him to records from Sonic Youth (also his first ever concert experience), The Cure and Jimi Hendrix and for supplying him with a guitar until he received his own around his 15th birthday. 120 Minutes, a 2 hour block of alternative videos and performances on MTV that featured artists such as Thurston Moore and Nirvana, filled his Sunday nights and introduced him to many of his personal rock gods. He and his neighborhood friends were obsessed with skateboarding videos and their punk fueled soundtracks. They blasted homemade mixtapes with Dinosaur Jr. and the Minutemen in the backyard while they tried not to "eat it" on Coleman's half-pipe.
Prolific creative output from Coleman's artistic career encompasses standup comedy, painting, writing books, movie scripts, solo recordings and group projects. Monofonus Press released Coleman's combination poetry book/CD (1999 2003 Denton), American Trashcan, in 2008, and followed it up with a 7" titled Ghettoblaster, which included a cover of George Michael's "Faith." The Golden Boys released 4 albums in the 2000's, with some tracks making it on Austin scene sampler Casual Victim Pile compiled by Matador Records founder Gerard Cosloy. His first dedicated full-length, Steal My Mind, was issued in 2009, before Goner Records released Bad Lady Goes to Jail in 2010 and Daggerman Records dropped Little Miss Keith Richards. Coleman returned in 2012 with The Last Donkey Show, recorded in Oakland, California at Greg Ashley's Creamery studio, and at a friend's childhood home in Lockhart, Texas, offering more of his uniquely colorful tales and a hint of maturity. Coleman teamed up with Monofonus Press again to put out the Nightmare on Silly Street LP in 2012. Trans Am Summer Blues was released in 2013 on Chicago's Tic Tac Totally imprint, and in 2014 he teamed up with the respected West Coast indie label Burger Records to put out the album The Love That You Own. On that release, Pitchfork noted that Coleman was "bringing his A-game," and Paste Magazine agreed, stating that the release may be "Coleman's best yet." The cover of Greatest Hits features a proud Coleman poised on top of an abandoned, land-laden boat. He sees stance as an acknowledgement of the wealth of the material he has released, all below him and behind him now. All that's important is now and what has yet to be created – which seems to be the artistic motivation of this prolific poet.
Press Junkie PR // 9901 Brodie Ln, Ste. 160 PMB 221, Austin, TX 78748 // ryan@pressjunkiepr.com // 512-382-7953 Greatest Hits is available digitally October 23rd via Super Secret Records. A vinyl pressing of the album will follow.